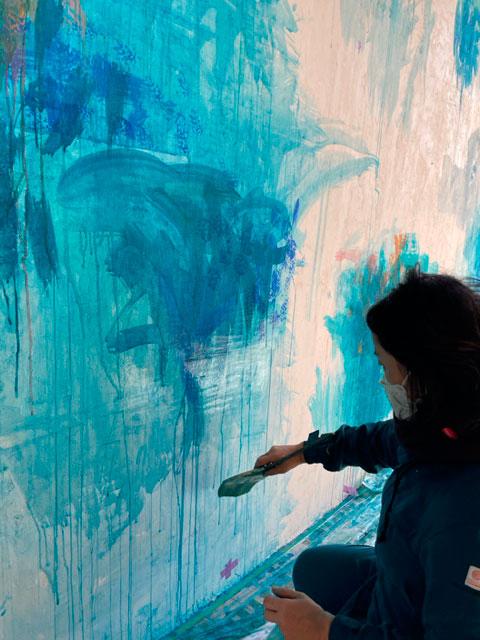 We made a ship's board artwork on the wall of the passageway from the schoolyard to the courtyard of "Tadanoumi Shugakko"
located in Tadanoumi Futamado, Takehara City, Hiroshima Prefecture. The artwork is a boat-plank artwork on the wall of the
passageway from the schoolyard to the courtyard. The Futamado area is a seaside town on the Seto Inland Sea where the fishing industry used to thrive.
In the past, the town had a culture of using old fishing boats and barge boats for the walls
of houses. Mr. Naoto Shinmoto, a member of the Historical and Folkloric Society of the area, has donated the old wood for
this project.

From December 6 to 9, 2022, The first step was painting on the 3x7.2m wall where the ship's board will be installed.
Harada Yuji Architects, who is planning a design project using local bamboo and nets for the courtyard of the school, and
The students from Harada Yuji Architects & Engineers, Yokohama National University, and Kure National College of  
Technology, who conducted a workshop to create a white wall painted with Seto plaster. The white walls were painted
with colors reminiscent of the sea and water.
Organaizing : Ringrow Co. YUji Harada Architectual Studio
Tadanumi Shugakko : https://tadanoumi.shugakko.jp
Yuji Harada Architectual Studio:https://www.yujiharada.net/gallery-i
note Yuji Harada + Naoto Shinmoto : https://note.com/yoshidaya2020/